Rosehip Seed Oil
Product Name: Rose Hip Oil
Raw Materials: Rosehip Seeds
Product Efficacy: apply to all kinds of skin, improve scars, eczema, or dry hair
Organic rosehip oil is the rose seeds by squeezing the fruit derived cold presses, mostly from wild fruit extraction, golden red, yellow to dark brown. Extracted by a special method of new technology, condensed, and does not contain any chemical ingredients, preservatives natural vegetable oils. Rosehip seed oil is rich in natural vitamin C, γ-linolenic acid, protein, minerals. The scar rule of 100% pure organic rose hip oil is known to balance sebum secretion, prevent acne, skin health. The uses of rosehip seed oil in beauty can promote skin regeneration, smooth fine lines will enable the skin to maintain elasticity and luster. For dry, dull, scaly fissures of the skin, scar healing, trauma, burns, sunburn, eczema, psoriasis, aging skin or dry hair Jieyou excellent effect. Burn or trauma to the skin, can prevent injuries from arising.
Rose hip oil can be treated with a variety of fine stops menstruation and related issues.The rosehip seed oil is avoid the use of assassination in the powder, the oil or spotted skin. For very dry, or aging skin can be used as an additional 10% of the concentration of oil.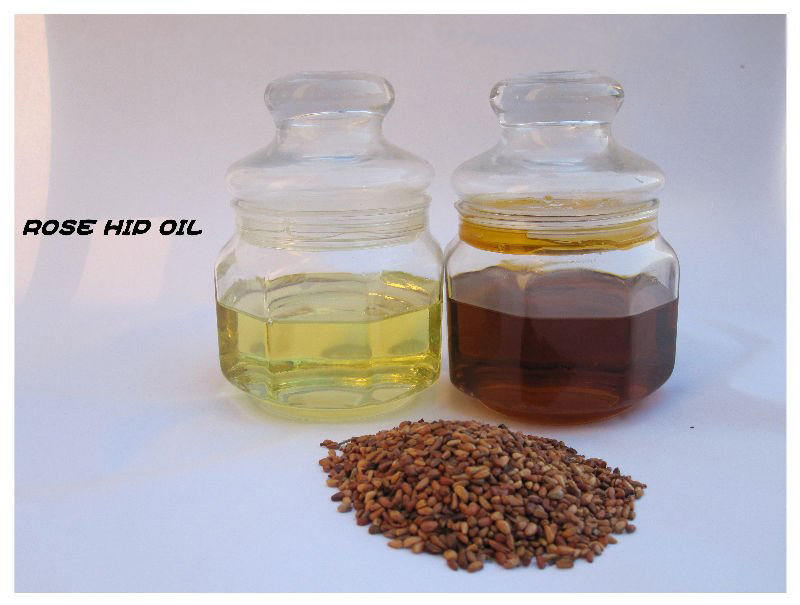 Ingredients:
Linoleic Acid 45%
Linolenic Acid 35%
Oleci Acid 14%
Palmitic Acid 4%
Estearic Acid 2%
What is rosehip seed oil used for?
Cold pressed organic rosehip seed oil is a clear and pale yellow oily liquid. Pure Rosehip oil contains around three-quarters essential fatty acids: oleic, linoleic, and linolenic, which help maintain healthy skin. Rose hip oil also contains natural Tretinoin, a derivative of Vitamin A, which replenishes and helps rebuild skin tissue. The oil has a naturally occuring preservative in the form of anti-oxidant tocopherols (Vitamin E), helping to maintain shelf-life.
Product role: organic rose hip oil used to strengthen organizational effectiveness, resulting in rolling organizational roles, easily penetrates the dermal layer, moisture, promote smooth skin whitening effect of the. Cell regeneration, repair and healing have excellent effect. It enables the skin pigment diluted, reproduce uniform color, smooth skin. It can keep the skin clean, soft, tender and, wet, tight, strong, flexible, Feng Li role. For ordinary rough skin to achieve effect.
Main components: Rose alcohol (24-58%), neroli, benzene, ethanol, geraniol, linalool, rose ether, A ionone, Turkic ketones.
Daily Effect: 100% pure rosehip seed oil can deep moisturizing the skin, providing nutrients to prevent skin aging, dry; increase the vitality of the skin and avoid loose, maintain skin elasticity, shrink pores and rough, dry skin can regain its natural luster and eliminate and reduce various types of skin the formation of wrinkles, such as bags under the eyes pattern, crow's feet, neck profile; to prevent ultraviolet damage to the skin, whitening skin.
Special treatment: Rose hip oil can improve and eliminate of post-traumatic scars both old and new, such as acne, acne bump left holes, burn, burn scars, surgical scars. Elimination of peeling and redness after the phenomenon of black. To prevent and eliminate stretch marks; to prevent pigmentation Zhan, dilute spots, fade dark spots, freckles, age spots, chloasma, eye-care to eliminate dark circles, eye Zhifang Li, meat, teeth, flat wart.